Caruso St John makes well-made architecture. We bring both experience and fresh thinking to everything we do. We have won international recognition for the quality of our work.
Caruso St John Architects has two offices, in London and Zurich, with about forty staff in each. We have been in practice since 1990, developing a level of quality that has been widely recognised by awards and publication. We are winners of the Stirling Prize, and Adam Caruso and Peter St John are academicians of the Royal Academy.
We carry out a wide range of work, including commercial, residential, cultural and leisure buildings, and including new-build and renovation, and permanent and temporary commissions. We welcome this diversity – it helps to make each project distinctive, and for different projects to learn from each other.
We have a strong record of working in UNESCO World Heritage Sites and other historic locations. We have also demonstrated our ability to design confident new buildings on sites without recognised conservation value.
Our size gives us the capacity to handle large-scale commissions, while ensuring that our principals Adam Caruso and Peter St John can give close attention to each project. Adam and Peter both teach architecture, at ETH Zurich and London Metropolitan University. Their practice and their teaching benefit each other, bringing together the fresh thinking of students with the experience of a successful office.
We have a strong interest in contemporary art and have worked with leading artists such as Thomas Demand, Damien Hirst and Jeremy Deller. This interest enriches our architectural work, giving perspectives and insights into the physical qualities of buildings.
Our work starts with the project: who is it for? what is it for? where is it? what will it cost? what will it give to the lives that go on in it and around it? what is the best it can be? The relationship with clients is crucial. It is one of mutual respect and understanding, a shared exploration of the requirements and potential of each project.
The pursuit of well-made architecture continues into the design of each project. It means giving time and thought to the way that buildings are made, how they will last, and to the pleasure of materials that go together well. It requires creative thinking and attention to detail. It involves an openness in finding the best responses: some might be straightforward and simple, some distinctive and surprising.
Each commission is different – office, home, gallery, public space, arena, shop, church, memorial – and is valued for its difference. Each design is right for its situation, for the people who make and use it. New buildings and the renovation of existing buildings are equally valued.
To be well-made is to be fit for purpose. It does not mean that every aspect should be precious or expensive. We use efficient and economical building methods when appropriate, and bespoke and special details when they are called for.
There is no house style, but the continuous discovery of materials and approaches, whether ornamental or abstract, hand-crafted or technological, spectacular or quiet. Our architecture is underlined by a consistent attitude and commitment, a belief that designing buildings is serious work, but it is also something to be enjoyed.
Caruso St John, Collected Works, Volume 1, 1990-2005
Mack Books (London, United Kingdom: 2022) ISBN 978-1-913620-76-9
El Croquis: Caruso St John, 2013-2019: The physical quality of space
El Croquis (Madrid, Spain: October 2019), Issue 201, ISBN 978-84-120034-3-7
Hopkins in the City
Adam Caruso, Helen Thomas (eds)
gta Verlag (Zurich, Switzerland: 2019) ISBN 978-3-85676-392-3
Island
Caruso St John and Marcus Taylor (eds)
The Store X The Spaces (London, United Kingdom: 2018)
The Office on the Grass: The evolution of the workplace
Caruso St John Architects, Aurora Fernandez, Javier Mozas (eds)
a+t architecture publishers (Vitoria-Gasteiz, Spain: 2017), ISBN 978-84-697-5535-8
Rudolf Schwarz and the Monumental Order of Things
Adam Caruso, Helen Thomas (eds)
gta Verlag (Zurich, Switzerland: 2016)
ISBN 978-3856763626
Asnago and Vender and the Construction of Modern Milan
Adam Caruso, Helen Thomas (eds)
gta Verlag (Zurich, Switzerland: 2016), ISBN 978-3856763411,
a+u: Caruso St John Architects
a+u (Tokyo, Japan: March 2015), Issue 534
El Croquis: Caruso St John, 2000 - 2013: Form and Resistance
El Croquis (Madrid, Spain: March 2013), Issue 166, ISBN 978-84-88386-75-5
The Stones of Fernand Pouillon, An Alternative Modernism in French Architecture
Adam Caruso, Helen Thomas (eds)
gta Verlag (Zurich, Switzerland: 2013), ISBN 978-3-85676-324-4
Gardens of Experience
Adam Caruso
Sun (Amsterdam, Netherlands: 2009), ISBN 978-9085065753
The Feeling of Things
Adam Caruso
Ediciones Poligrafa (Barcelona, Spain: 2008), ISBN 978-84-343-1186-2
Almost Everything
Caruso St John Architects, Philip Ursprung (ed)
Ediciones Poligrafa (Barcelona, Spain: 2008), ISBN 978-84-343-1170-1 / 978-84-343-1169-5 (ES)
As Built: Caruso St John Architects
a+t ediciones (Vitoria-Gasteiz, Spain: 2005), ISBN 84-609-6609-7
Kalmar Stortorg
Helena Mattsson (ed)
Statens konstråd (Stockholm, Sweden: 2005), ISBN 91-974868-2-5
Knitting Weaving Wrapping Pressing
Birkhauser Verlag AG (Basel, Switzerland: 2002), ISBN 978-37-643-6733-6
The New Art Gallery Walsall
Deborah Smith (ed)
Batsford (London, United Kingdom: 2002), ISBN 0-7134-8787-9
Bremer Landesbank
BDA-Architekturpreis Nike – Nike für Fügung 2019
Grand Prix, Fritz-Höger-Preis 2017
Newport Street Gallery
RIBA Stirling Prize 2016
RIBA National Award 2016
RIBA London Award 2016
Liverpool Philharmonic Hall
RIBA National Award 2017
RIBA North West Award 2017
Heong Gallery, Downing College
RIBA East Award 2017
Gagosian Gallery Grosvenor Hill
RIBA London Award 2016
Westminster Society Award 2017
Europaallee Mixed-use building
RIBA Award for International Excellence 2016
Tate Britain
RIBA English Heritage Award 2014
RIBA London Award 2014
Civic Trust Award 2014
NLA Conservation and Retrofit Award 2014
Nottingham Contemporary
RIBA Award 2010
Chiswick House Café
RIBA English Heritage Award 2011
RIBA London Building of the Year Award 2011
RIBA Award 2011
Civic Trust Award 2011
Downing College, University of Cambridge
RIBA Award 2010
Arts Council England National Offices
RIBA Award 2009
V&A Museum of Childhood
RIBA Award 2007
Brick House
Finalist, RIBA Stirling Prize 2006
RIBA London Building of the Year Award 2006
RIBA Award 2006
Brick Awards Special Award 2005
Hallfield School
RIBA Award for Building in a Historic Context 2006
RIBA Award 2006
Gagosian Gallery Britannia Street
RIBA Award 2006
Stortorget, Kalmar
Siena Prize 2004
RIBA Award 2004
New Art Gallery Walsall
Finalist, RIBA Stirling Prize 2000
RIBA Award 2000
Civic Trust Award 2002
Carte Blanche XVI: Caruso St John Architects
December 2018 – February 2019
Architekturforum Zürich
Zurich, Switzerland
Island
May 2018 – November 2018
The British Pavillion, La Biennale di Venezia
Venice, Italy
The façade is the window to the soul of architecture
May 2018 – November 2018
Padiglione Centrale, La Biennale di Venezia
Venice, Italy
Constructions and References
September 2017 – January 2018
Chicago Architecture Biennial
Chicago, United States
Constructions and References
May 2017 – June 2017
Architektur Galerie Berlin
Berlin, Germany
Diorama
January 2017 – February 2017
Betts Project
London, United Kingdom
33 Competitions, 6 Projects
October 2016 – November 2016
House of Art České Budějovice
České Budějovice, Czech Republic
A thousand years of song, two thousand years of architecture
January 2016
McGill University
Montreal, Canada
Madame Wu and the Mill from Hell
29th October 2013 – 19th November 2013
The British School at Rome
Rome, Italy
Pasticcio
29th August 2012 – 25th November 2012
Padiglione Centrale, La Biennale di Venezia
Venice, Italy
Caruso St John Architects, Almost Everything
April 2009 – July 2009
Institut GTA, ETH
Zurich, Switzerland
Seven Projects
October 2008
Department of Architecture and Spatial Design, London Metropolitan University
London, United Kingdom
Caruso St John - Cover Versions
October 2005 – November 2005
Architectural Association Gallery
London, United Kingdom
Caruso St John, Art Spaces
February 2001 – February 2001
Fig - 1 Gallery
London, United Kingdom
The Feeling of Things
January 1999 – January 1999
University of North London, School of Architecture
London, United Kingdom
The Presence of Construction
January 1998 – February 1998
Architectural Association Gallery
London, United Kingdom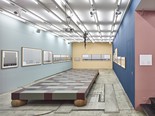 Carte Blanche XVI: Caruso St John Architects
Architekturforum Zürich
Zurich, Switzerland, 2018
Island
British Pavilion, La Biennale di Venezia
Venice Italy, 2018
The façade is the window to the soul of architecture
Central Pavilion, La Biennale di Venezia
Venice, Italy, 2018
Constructions and References
Chicago Architecture Biennial
Chicago, United States, 2017

Constructions and References
Architektur Galerie Berlin
Berlin, Germany, 2017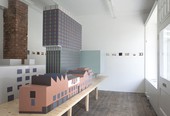 Diorama
Betts Project
London, United Kingdom, 2017
33 Competitions, 6 Projects
House of Art
České Budějovice, Czech Republic, 2016
Madame Wu and the Mill from Hell
The British School at Rome
Rome, Italy, 2005
Pasticcio
De Singel
Antwerp, Belgium, XXXX
Cover Versions
Architectural Association Gallery
London, United Kingdom, 2005
Allreal
Ark Des
Arts Council England
Barbican
Bayerische Hausbau
Belvedere Museum
Blain Southern Gallery
Bremer Landesbank (Nord LB)
British Council
CIP: Construction & Investment Partners
Commerz Real
Credit Suisse
Darwin College
Downing College
English Heritage (Historic England)
Established & Sons
Esther Schipper Gallery
Fondation Cartier
Frieze Art Fair
Gagosian
Gladstone's Library
Gruner + Jahr
Hayward Gallery
Hospitalfield Arts
HRS Real Estate
Kalmar kommun / Statens konstrad
Karma International Gallery
Katholischer Konfessionsteil des Kantons St.Gallen
Kvadrat
London Borough of Southwark
Manchester City Council
Momeni
Neue Nationalgalerie / Staatliche Museen zu Berlin
Newport Street Gallery
Nottingham Contemporary
Quantum Immobilien
Region Nord Pas de Calais / Ville de Lille
RIBA: Royal Institute of British Architects
Royal Geographical Society
Royal Liverpool Philharmonic
SBB: Swiss Federal Railways
Science Limited
SCP Furniture
Sir John Soane's Museum
Souverain 25 NV
Spike Island
Staatliches Bauamt München
Stephen Friedman Gallery
Stiftung Behindertenwerk St. Jakob
Tate
The British Museum
The Dean and Chapter of Canterbury Cathedral
Trudo
V&A: Victoria & Albert Museum
W·RE: Westminster Real Estate
Walsall Metropolitan Borough Council
ZLE Betriebs AG / ZSC Lions