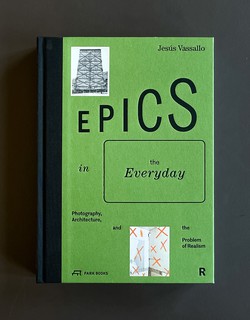 Jesús Vassallo discusses the work of Caruso St John in his recently published book.
Epics in the Everyday: Photography, Architecture, and the Problem of Realism, sets out to write an alternative history of contemporary architecture and documentary photography, through a series of case studies that include Caruso St John's collaborations with Thomas Demand.
Exploring the evolution of the two disciplines Vassallo states both are, "suspended between the fine arts and the utilitarian, and because of this condition they tend to give for granted their relationship with reality: as soon as a building is inhabited, it becomes the backdrop for human drama, just like a photograph, the moment it is taken, is considered an automatic record of whatever was there at the time. Why then the fixation of these architects and photographers with precisely that which makes their art less like art?".
Vassallo is currently touring the book with a series of lectures, which further question the role of the author and perceptions of abstraction and realism.