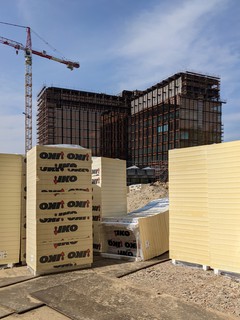 Project update
Brussels, Belgium
Renovation work continues at the Royale Belge in Brussels. The façade replacement of the tower has been completed, which replicates the original design but with an expanded insulation zone. Work on the podium façade is underway, with a series of new openings connecting it to the landscape. A large cut has been made in the base of the building making way for the new atrium and four new columns to support the existing diagrid roof have been added.
The 1970's office building is being renovated by Caruso St John in collaboration with Bovenbouw Architectuur and DDS+.
Photos by Benjamin Wells.