Veemgebouw
Eindhoven, The Netherlands
2007–2022 (under construction)
Client: Trudo
Competition, first prize
This commission arose from an ideas competition for the conversion of the Veemgebouw, a monumental warehouse building at the former Philips industrial site in Eindhoven. The historic building was constructed in 1943, and is the most impressive and prominent of a series of large industrial buildings on the Strijp S site at the heart of the complex. The site is being redeveloped as a new piece of the city by the Dutch housing developer Trudo, to a masterplan by Jo Coenen and West 8. The new uses on the site will include apartments, offices, and retail spaces, within existing historic buildings and new buildings.
Under construction
Eindhoven, The Netherlands
The landscape and interiors of Caruso St John's Veemgebouw Strijp S are now taking shape. The top floor of new construction contains 40 apartments, arranged around a landscaped courtyard, with external facades of curving brickwork that form a new dramatic top to the building.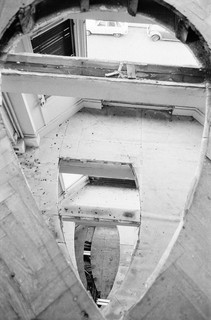 Lecture
Eindhoven, The Netherlands
10th February 2022
Peter St John is taking part in TU Eindhoven's lecture series, Lessons in Sustainable Architecture. His talk, Reuse, Recycle will discuss the practice's renovation projects with a focus on their sustainability and design process.
Location
Eindhoven, The Netherlands
Date
2007–2022
Client
Trudo
Construction cost
€55m
Area
30,000 m²
Caruso St John Architects
Adam Caruso, Peter St John
Project architect(s)
Florian Zierer (phase 1: 2007-2008), Bernd Schmutz (Phase 2: 2011- 2014), Will Pirkis
Project team
Sam Casswell, James Decent, Emily Keyte, David Leech, Adam Gielniak, Steffi Wedde
Executive architect
Piet Vrencken, Vrencken Hoen
Structural engineer
Tielemans Bouwconstructies BV
Services consultant
LTC & C Installatiemanagement BV
Project manager
DNC
Cost consultant
DNC
Main contractor
Stam + de Koning
Photography
Caruso St John