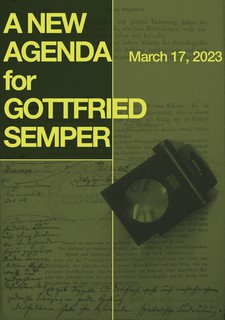 Book launch
Zurich, Switzerland
Friday 17th March 2023
Adam Caruso will be speaking on the theme of 'Semper and Material Culture', as part of the book launch for A New Agenda for Gottfried Semper. Alongside Elena Chestnova, Murray Fraser, Michael Gnehm, and Sonja Hildebrand, Adam will discuss the mid-nineteenth century's emphatic interest in material history against the backdrop of the precariousness of a life in exile confronted with a globalised world.
The talk is part of three roundtables which will present new approaches to the architect and theorist Gottfried Semper in recent publications on architectural culture.
The 'Semper and Material Culture' roundtable will begin at 3:15 pm on the 17th March. The book launch will be held at the Collegium Helveticum, Semper Observatory (ETH/STW), Schmelzbergstrasse 25 8006 Zurich.