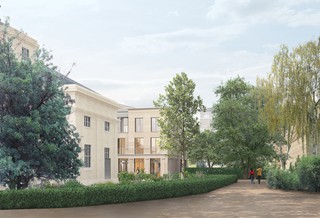 Planning permission
Cambridge, United Kingdom
Caruso St John's design for Downing College's new Student Centre has been granted planning approval. The three-storey structure, close to the College entrance from Regent Street is part of the first phase of the practice's master plan for the college.
The design is informed by the College's original buildings by William Wilkins. These are arranged around a generous green in a rigorous Greek revival architecture. The new student centre responds to this setting with a generous set of social spaces arranged around two stairs, made in structural timber, with facades in self supporting local limestone.
Images by Nora Walter.