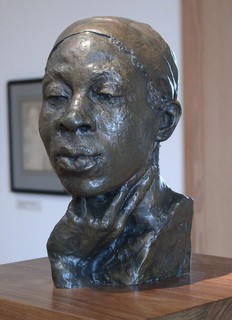 Press
Walsall, United Kingdom
31 March 2021
The Guardian is currently exploring the collections of British institutions, highlighting important artworks. From the New Art Gallery in Walsall, Julie Brown the collection's curator, analyses and celebrates Sally Ryan's sculpture 'The Martinique'.
'The Martinique' was gifted along with 15 other works to the Walsall gallery by Kathleen Garman in 1973. It is now the only public museum in Britain to feature Ryan's work.
The bust is one of the 365 objects held at the heart of the gallery, in an intimate wooden clad room by Caruso St John. The space reflects the personal tastes of its two female collectors and acts as a biographical legacy. "The stories of the people associated with the objects are at its core, and the themes of love, life, loss and dysfunctional families are universal."
Photo © The New Art Gallery Walsall. Sally Ryan (1916-1968), The Martinique, 1934, bronze, Garman Ryan Collection