New Art Gallery Walsall
Walsall, United Kingdom
1995–2000
Client: Walsall Metropolitan Borough Council
RIBA Stirling Prize finalist
This commission was won in an open international competition organised by the Borough Council of Walsall. The New Art Gallery is the home of the Garman Ryan Collection, an impressive and intimate collection of paintings, sculpture and objects assembled by Kathleen Garman and Sally Ryan, and given to the town in 1973. The display of the collection forms the core of the hugely energetic artistic and educational programme for the building. The new gallery was the first major public building to be built in Walsall for many years, in a region which generally had seen very little public investment.
Press
Walsall, United Kingdom
31 March 2021
The Guardian is currently exploring the collections of British institutions, highlighting important artworks. From the New Art Gallery in Walsall, Julie Brown the collection's curator, analyses and celebrates Sally Ryan's sculpture 'The Martinique'.
Anniversary
New Art Gallery Walsall, United Kingdom
Thursday 20th February
Caruso St John Architects' first major project, the New Art Gallery Walsall, celebrates the twentieth anniversary of its opening this week.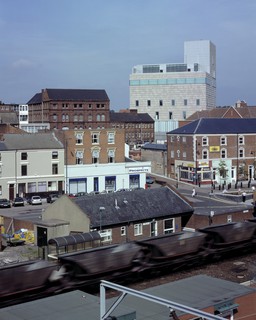 Exhibition
New Art Gallery Walsall, United Kingdom
11 February 2020
The occasion is marked by Party! an exhibition featuring an eclectic range of artists whose works are linked through broad reference to the party, a theme which extends across music, singing, dancing, greetings cards, food and drink, dress and decorations.
Location
Walsall, United Kingdom
Date
1995-2000
Client
Walsall Metropolitan Borough Council
Construction cost
£16m
Area
5,000 m²
Caruso St John Architects
Adam Caruso, Peter St John
Project architects
Laurie Hallows, Alun Jones
Project team
Martin Bradley, Adam Caruso, Rod Heyes, Andrés Martines, Peter St John, Silvia Ullmayer
Collaborating artists
Richard Wentworth, Catherine Yass
Structural engineer
Arup
Services engineer
Arup
Cost consultant
Hanscomb
Landscape architect
Kinnear Landscape Architects
Façade engineer
Arup Façade Engineering
Acoustic consultant
Arup Acoustics
Access consultant
David Bonnett Associates
Main contractor
Sir Robert McAlpine Ltd
Photography
Hélène Binet
Awards
Finalist, RIBA Stirling Prize
RIBA Award
Civic Trust Award
Selected work, EU Mies van der Rohe Award