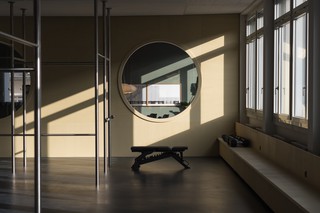 Opening
Zurich, Switzerland
Caruso St John's design for Laboratorium opens this week, a functional training space aimed at Calisthenics workouts using minimal equipment.
The design provides a single open space alongside communal facilities defined by simple timber screens in a range of colours. Central to the studio is a custom-made stainless steel apparatus of floor to ceiling posts and horizontal beams.
The gym is located at 38 Binzstrasse, in a space shared with the practice's Zurich office.
Photos © Bill Schulz