Nagelhaus
In collaboration with Thomas Demand
Zurich, Switzerland
2007–2010
Client: Stadt Zurich
Competition, first prize
This project, in collaboration with the artist Thomas Demand, was the winner of a competition for a major public art commission in the City of Zurich. The site is located at Escher Wyss Platz, an important and unusually messy part of the city's transport infrastructure. The project coincided with the restoration of the 1960s Hardbrücke road viaduct and the construction of a new tram line. Escher Wyss Platz is a former industrial area undergoing dramatic transformation, with substantial new commercial developments, cultural institutions, and residential buildings.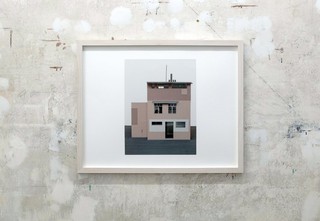 Exhibition
London, United Kingdom
9th April - 21st May 2022
Caruso St John and Thomas Demand's Nagelhaus features in Betts Project's group exhibition Namely, words - Part 2. The show invited artists and architects to present a drawn or sculpted work alongside a piece of writing they admire. Prints of Nagelhaus feature in conversation with the lyrics of Talking Heads' Heaven.
Exhibition
Museum Leuven
19 October 2020 – 18 April 2021
M Leuven presents a major retrospective of the work of the artist Thomas Demand, featuring two works made by the artist in collaboration with Caruso St John: The unrealised Nagelhaus and the soon to be built pavilion at the headquarters of fabric manufacturers Kvadrat in Ebeltoft, Denmark.
Location
Zurich, Switzerland
Date
2007–2010
Client
Stadt Zurich
Area
250 m²
Status
Competition, first prize; cancelled following a referendum
Collaborating artist
Thomas Demand
Caruso St John Architects
Adam Caruso, Peter St John
Project architect
Neslihan Aydogan
Project team
Pablo Donet, Adam Gielniak, Emily Keyte, Michael Schneider