Gagosian Grosvenor Hill
London, United Kingdom
2012–2015
Client: Gagosian
RIBA Award
Gagosian's main London gallery at Grosvenor Hill is located in the centre of Mayfair, close to Berkeley Square. The gallery occupies the whole ground floor of a podium and slab residential building from the 1960s. The tall gallery spaces are located in the podium, with the viewing rooms and offices for Gagosian on the first floor of the slab building above. The project was made in collaboration with Tate Hindle, the architects of the Grosvenor Estate.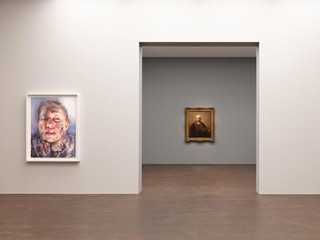 Exhibition
Gagosian Gallery Grosvenor Hill, London, United Kingdom
12 April-18 May 2019
Visions of the Self: Rembrandt and Now, the exhibition designed by Caruso St John is open at Gagosian Gallery Grosvenor Hill.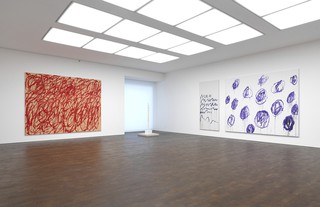 Opening
London, United Kingdom
The new Gagosian Gallery in Mayfair opens to the public today. The gallery opens with an exhibition of paintings, sculptures and works on paper by Cy Twombly.
Location
London, United Kingdom
Date
2012–2015
Client
Gagosian
Area
2,230m²
Caruso St John Architects
Adam Caruso, Peter St John
Project architects
Nina Lundvall, Bernd Schmutz, Martin Pasztori, Will Pirkis
Project team
Charles Bedin
Collaborating architects
Tate Hindle
Structural engineer
Ramboll
Services consultant
Ramboll
Cost consultant
Jackson Coles
Project manager
Jackson Coles
CDM coordinator
Jackson Coles
Main contractor
Westgreen Construction
Photography
Hélène Binet
Ioana Marinescu
Awards
RIBA Award
Westminster Society Biennial Award for Architecture Winner