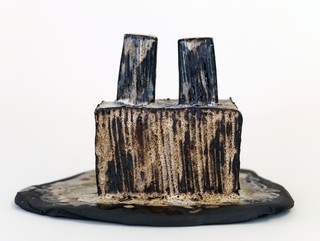 Auction
15th - 25th March
Models created for the 2018 Alternative Histories exhibition donated to the Architecture Foundation, were auctioned at the end of March. The twenty-six architectural models, including Caruso St John and Siw Thomas' ceramic model based on Hans Poelzig's sketch for the Stadthaus, Dresden, raised over £6,000 for their New Architecture Writers programme.
Commissioned by Drawing Matter, the exhibition presented an exchange of today's architects with those from the past. A range of international architects were asked to develop a model in response to one of the historic architectural drawings in the Drawing Matter archive.
Other models that were for sale included Florian Beigel's interpretation of Le Corbusier's Open Hand Monument, and Tony Fretton's Stennäs by Asplund.