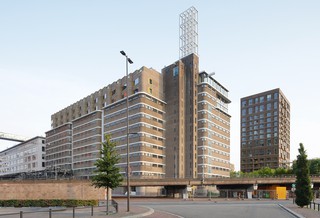 Completion
Eindhoven, The Netherlands
Construction has completed on Caruso St John's redevelopment of the Veemgebouw, a former Philips factory building on Strijp S in Eindhoven. The monumental industrial site in the Brainport region of the city is now the centre of a lively urban environment.
The design repurposed the existing floors to create a varied mixed-use structure; including workspaces on the upper floors, a car-park and a food-hall on the ground floor. The project also included the addition of 38 rooftop studios and maisonettes.
The new apartments match the refined yet robust existing building, with their undulating staggered form and brick facades. The rooftop equally offers a space for a sustainable collective installation system where heat pumps on the roof provide hot water and heating. Solar panels will deliver sufficient energy for the collective installation system and ensure that the entire system is energy-neutral on an annual basis.
The project was a collaboration between Caruso St John and developers Trudo.
Photos © Filip Dujardin.