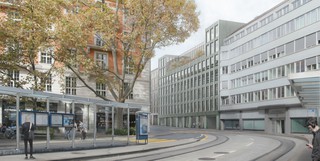 Project update
Zurich, Switzerland
Caruso St John has received the building permit for the AXA Office building, located on Stampfenbachstrasse in central Zurich. The building, for multinational insurance company AXA, houses around 4,000 square meters of office space over seven floors.
Construction is scheduled to begin in spring 2023, with a façade mock-up already completed for quality control of the materials and joints.
Central to the design is the use of the existing natural stone façade, which will be reused as a floor covering for both inside and outside spaces. The design will also increase the green space in the building's highly urban context, with large-scale green roofs and plant troughs on both sides of the building; rainwater will be stored in tanks and used to irrigate the intensive planting.
Photo © Caruso St John Architects.