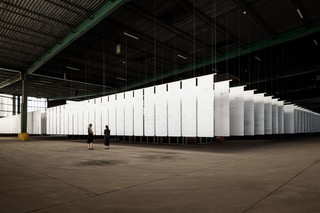 Exhibition
Hamburg, Germany
23rd June – 14th July 2023
Several designs by Caruso St John feature in an exhibition by Hamburg's Department of Urban Development and Housing, presenting architectural competitions and procedures undertaken in the city from 2017 to 2023.
Every year around 40 competition and planning processes take place in Hamburg, for example for school, residential and cultural buildings, for infrastructure, neighborhoods, parks and squares. Every single contribution to these competitions and procedures is a building block in the development of the city. Although usually only one design can win, all other submissions are just as rich in ideas and individual solutions. The creative wealth that planners and architects bring to every design task and thus to the urban discourse will be made available to the public for the first time with the three-week exhibition "The Whole City" in Shed 29 on the Baakenhöft.
Designed and curated by KAWAHARA KRAUSE ARCHITECTS and the architecture critic Kaye Geipel, "The Whole City" will be a walk-in installation that will make the competitions and procedures tangible on three levels: visually through the abundance of entries, physically through the spatial experience and content-wise through seven thematic islands, which range from housing to productive cities, from open spaces to new mobility, from neighborhood planning to building in existing buildings and re-use.
An extensive supporting program invites urban society, experts and politicians to actively continue the discussion about building culture and urban design, about architecture and participation.
Image © Kawahara Krause Architects