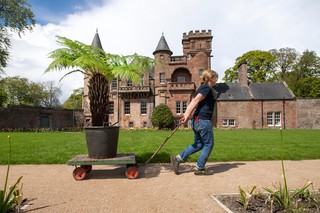 Opening
Arbroath, United Kingdom
27 May 2021
Caruso St John have completed renovation work on the fernery and glasshouse at Hospitalfield House in Arbroath, which opens to the public today. This is the first phase in the wider redevelopment of the Category A listed arts centre.
The Victorian fernery, originally designed by Patrick Allan Fraser in the late 1800s, has been conserved, with the addition of a glass roof. The space now houses a large fern collection, donated by the Royal Botanical Gardens Edinburgh. The glasshouse has been renovated to create a café and exhibition space. In addition to building, the work has extended to the double-walled garden, with a natural and organic planting scheme by Nigel Dunnett.
Subsequent phases will include the renovation of the 19th Century Arts and Crafts house and artist's studios, and the creation of a new gallery and visitors' centre.
Main image © Louise Galloway, images below © Caruso St John Architects