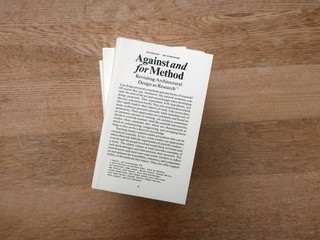 An interview with Adam Caruso features in a new gta Verlag publication, Against and For Method. Edited by Jan Silberberger, the volume tries to tackle the deficiencies in studio teaching and proposes possibilities for integrating research approaches into teaching and practice.
It features a range of contributors, including Bernhard Böhm, Johan De Walsche, Kim Helmersen and Monika Kurath, among others. In addition to these essays, five interviews were conducted with practising architects, who are also studio professors at ETH Zurich. These contributions and conversations are intended to urge studio teachers to consider that conceptually coherent approaches aids their students.
Book design and photos © Brighten the Corners.