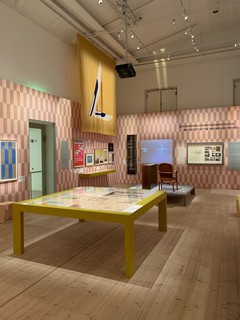 Exhibition
Stockholm, Sweden
1st October 2021 - 28th August 2022
Arkdes' Sigurd Lewerentz, Architect of Death and Life opens this Friday. The comprehensive exhibition has been curated by Kieran Long, Johan Örn and Lena Landerberg, and designed by Caruso St John.
The show follows his life and work through ArkDes' collection, delving into his personal library, drawings and archive. Its spaces trace his career from his early commercial interiors, through to his Stockholm chapel and cemetery, his later great churches, to the Riksförsäkringsanstalten office building, the Malmö Opera and the Villa Edstrand.
The exhibition opens after four years of research, offering a new image of the architect, as an artist in tune with the time; curious about the modern city and its possibilities. It is a landmark exhibition of previously unseen work.