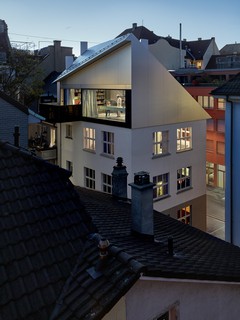 Completion
Zurich, Switzerland
Caruso St John's work on a 1940's industrial building has created new working and living spaces for a young family. The project lightly repairs the existing almost cubic building. The new construction is a new roof built almost to the limits of what is permitted by the planning regulations, a steep volume that rises up from the eaves along the street to make a new broad façade facing south towards the rear yard.
Located near the Bahnhof Wiedikon in a mixed part of the city, the original building was a purpose-built warehouse and depot for a publisher and is now inhabited by the third generation of the same family.
A graphic design studio that used to be in the roof has replaced the cycle repair shop on the ground floor, the first floor is a shared working space, and the second floor flat has been expanded onto the newly constructed third floor.

Photos © Philip Heckhausen