Office Building, Grosser Burstah
Hamburg, Germany
2014–2023
Client: Bilton Real Estate GmbH
This commission was won in an invited competition organised by the city. The new office building for the developer Bilton Real Estate GmbH is part of a wider project to rearrange the shape of the city streets to the north of St Nikolai Memorial, which were lost in the post-war development of the site. The wider master plan re-establishes a scale of city block that is more consistent with the older streets in this central quarter of the city, making it more permeable. The new building will provide 13,700 square metres of offices and retail space, over ten floors.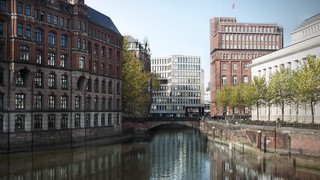 In a talk for the Architecture Foundation, Associate Ben Speltz presents Caruso St John's work in Hamburg over the past decade, focusing on the practice's approach to working within the urban fabric of the city centre and introducing two recently completed projects, the Gortz Palais and Grosser Burstah Office Building.
Under construction
Hamburg, Germany
The Grosser Burstah in Hamburg is nearing completion. The scaffolding has been taken off at the top of the building, revealing the new terracotta cladding manufactured by NBK. The rest of the façade will be finished by the end of the year.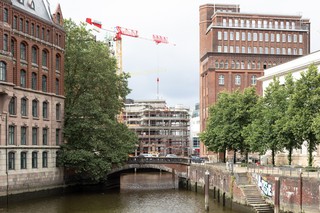 Under construction
Hamburg, Germany
Construction continues on the Grosser Burstah office building in Hamburg. The new office building, due to be completed in 2023, is part of a larger development of the city north of the St Nikolai Memorial; with the aim to re-establish a scale and urbanism which is consistent with the older streets of the central quarter.
Location
Hamburg, Germany
Date
2014–2023
Client
Bilton Real Estate GmbH
Area
13,700 m²
Caruso St John Architects
Adam Caruso, Peter St John
Project architects
Sebastian Drewes (2014–2018), Stephanie Webs (2018–2020), Ben Speltz (2020–2023)
Project team
Dominik Arni, Gregory Bon, Bob Braun, Catija Christensson, Sam Casswell, Laura Wollenhaupt
Structural engineer
Panta Ingenieure GmbH
Services engineer
Reese Ingenieure GmbH, M&P Group
Cost consultant
BAL Bauplanungs und Steuerungs GmbH
Project manager
Drees & Sommer AG
Building physics
Taubert & Ruhe GmbH, Hochtief