St Gallen Cathedral Chancel
St Gallen, Switzerland
2011–2013
Client: Katholischer Konfessionsteil des Kantons St.Gallen
UNESCO World Heritage Site
This commission for a new chancel at the centre of St Gallen Cathedral was won in an invited competition. St Gallen is justly famous as a long-lived monastic community with a lavish cathedral and an extraordinary library. The commission was to commemorate the 300th anniversary of the construction of the Baroque cathedral and was required to replace a temporary wooden chancel that had been there since the 1960s.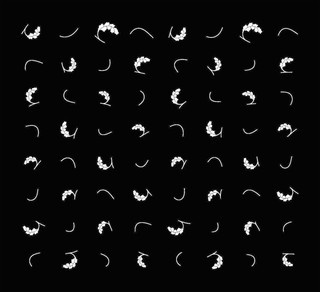 Lecture
Schweizer Baumuster-Centrale, Zurich, Switzerland
23 January 2020, 6pm
Florian Zierer speaks at the Schweizer Baumuster-Centrale on the subject of the construction of the new chancel at St Gallen Cathedral.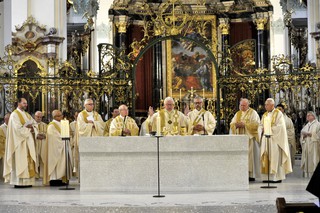 Consecration
St Gallen, Switzerland
The consecration of the new chancel at St Gallen Cathedral, designed by Caruso St John Architects, was celebrated in a service led by Bishop of St Gallen Markus Büchel and attended by 1200 members of the diocese. In his sermon the Bishop refered to the design as a "couragous and successful work". Construction of the new chancel was completed in four months, during which time the Cathedral remained open to the public.
Location
St Gallen, Switzerland
Date
2011–2013
Client
Katholischer Konfessionsteil des Kantons St.Gallen
Heritage
UNESCO World Heritage Site
Construction cost
1.6m CHF
Area
300 m²
Caruso St John Architects
Adam Caruso, Peter St John, Florian Zierer
Project architect
Florian Summa
Project team
Colm mac Aoidh, Christof Bedall, Michael Schneider
Structural engineer
Grünenfelder & Lorenz AG
Cost consultant
Jaeger Baumanagement AG
Terrazzo contractor
Schmitt Natursteinwerk AG
Photography
Hélène Binet