Lycée Hôtelier de Lille
Lille, France
2011–2016
Client: Ville de Lille / Region Nord Pas de Calais
This commission for the Lycée Hôtelier de Lille, in the Fives district of Lille, was won in an invited competition organised by the city. The new school trains students to work in the catering industry. The teaching spaces include training kitchens, a training restaurant, and a bakery, as well as residential accommodation and sports facilities.
Caruso St John' Architects' projects for the Newport Street Gallery and the Lycée Hotelier de Lille have been nominated for the 2017 European Union Prize for Architecture - Mies van der Rohe Award.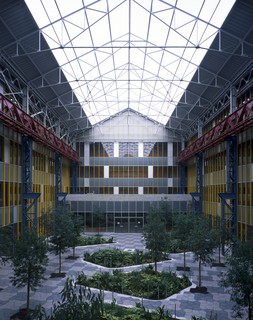 Caruso St John's project for the Lycée Hotelier de Lille has been nominated for an Equerre d'Argent award in the category of Culture, Youth and Sport. The winners will be announced on 21st November.
Location
Lille, France
Date
2011-2016
Client
Ville de Lille / Region Nord Pas de Calais
Construction cost
€47.2m
Area
29,000 m²
Caruso St John Architects
Adam Caruso, Peter St John
Project architects
Florian Zierer (2011-12), Stephanie Webs (2013-14), Elseline Bazin and Charles Bédin (2014-16)
Project team
Neslihan Aydogan, Thomas Back, Elseline Bazin, Christoff Bedall, Charles Bédin, Bob Braun, Murat Ekinci, Nike Himmels, Summer Islam, Nanami Kawashima, Martin Migeon, Miguel Santamaria, Bernd Schmutz, Jo Sharples, Iason Tsironis, Kai Zipse
Structural engineer
Batiserf
Services engineer
Inex
Cost consultant
Bureau Michel Forgue
Local architects
CAAU - Coldefy & Associés Architectes Urbanistes
Landscape architect
Pascal Cribier with Aptec
Concrete contractor
Holbat
Roofing contractor
SMAC
Façade contractor
PMN
Landscape contractor
AGRIGEX
Photography
Hélène Binet, David Grandorge
Awards
Nominated, EU Mies van der Rohe Award