Schulhaus, Neuhausen
Neuhausen am Rheinfall, Switzerland
2015–2020
Client: Gemeindeverwaltung Neuhausen am Rheinfall
The school is the first phase of a larger urban scheme planned by Caruso St John, the commission for which was won in an invited competition organised by the city. The site is in the centre of Neuhausen, mid-way between the main railway station and the famous Rheinfall waterfalls.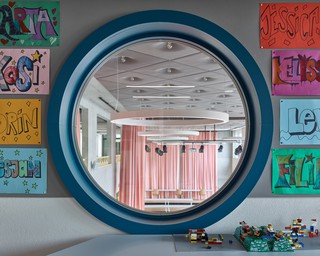 Coming soon
Neuhausen am Rheinfall, Switzerland
The school year has started at Neuhausen am Rheinfall's newly refurbished primary school. Caruso St John's project to refurbish and extend the exiting building is the first part of a larger urban scheme that includes a new town hall, market place, main fire station, and a range of housing for families and the elderly.
Date
2016–2020
Location
Neuhausen am Rheinfall, Switzerland
Client
Gemeindeverwaltung Neuhausen am Rheinfall
Caruso St John Architects
Adam Caruso, Peter St John, Michael Schneider, Florian Zierer
Project Architects
Thomas Wirz (2016-2020), Henrik Axelsson (2017-2020)
Project Team
Lukas Brusch, Lucius Delsing, Giosue Figliuolo, Christoph Hayn, João Moreira, David Reisinger, David Vincent
Structural engineers
Wüst Rellstab Schmid AG
Cost consultant
WT Partner AG
Project Manager
BTH+ Bautreuhand
Fire & security
Wüst Rellstab Schimd AG
Acoustics
Zehnder & Käln AG
Landscape Architect
Ghiggi Paesaggi GmbH
Building physics
Zehnder & Kälin AG
Signaletics
Schmid & Schwitter AG
Catering
Gastroeinrichtungen GmbH
Main contractor
???
Carpentry
Bantli AG