United Kingdom Holocaust Memorial
In collaboration with Marcus Taylor and Rachel Whiteread
London, United Kingdom
2016–2017
Client: United Kingdom Holocaust Memorial Foundation
Competition
This competition entry for the UK memorial to the Holocaust was made in collaboration with the artists Rachel Whiteread and Marcus Taylor. The memorial will be located in Victoria Tower Gardens, adjacent to the Houses of Parliament, and is intended to be both a monument and a place of education about the Holocaust.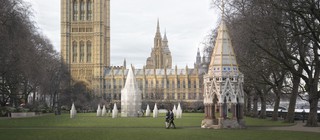 Designs by the 10 shortlisted teams in the contest to design a £40 million national Holocaust memorial next to the Palace of Westminster have gone on public display. Caruso St John, Marcus Taylor and Rachel Whiteread's proposal consists of two parts – a cast, translucent sculpture above ground and a series of large chambers below ground.
Location
London, United Kingdom
Date
2016–2017
Client
United Kingdom Holocaust Memorial Foundation
Heritage
Grade II* listed setting
Area
4,000 m²
Status
Competition
Collaborating artists
Marcus Taylor and Rachel Whiteread
Caruso St John Architects
Adam Caruso, Peter St John
Project architect
Rod Heyes
Project team
Thomas Back, Gregory Bon, Amy Perkins, Will Pirkis
Landscape architect
Vogt Landscape Ltd.
Access consultant
David Bonnett Associates Ltd.
Lighting design
Arup